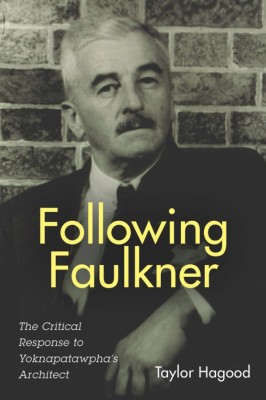 ​​

​

​Following Faulkner: The Critical Response to Yoknapatawpha's Architect

​​
A highly-readable narrative of the history of Faulkner criticism that helps readers see the various arguments that have defined the field and the people who have made them.
​"​Following Faulkner​ . . . sees the writer as a cipher through which to narrate the vicissitudes of criticism from Faulkner's time to the present. . . . a useful even definitive guide for students, academics and readers wishing to gauge for themselves Faulkner's lasting relevance."—Times Literary Supplement

​

"This meticulously researched, concisely written book provides a history of critical responses to Faulkner . . . this book is an ideal resource for those interested in learning about trends in literary criticism and about how readings of Faulkner adapt to and challenge those trends."—CHOICE

William Faulkner seems to have sprung a full-blown genius from a remote part of the American South. Yet Faulkner spent much of his life striving to emulate and overshadow - both as a writer and as a person - his great-grandfather and namesake, Colonel William Falkner, a dueling, railroad-building, soldiering figure who loomed not just as a legend in Faulkner's family and community but also as a literary forebear, a published novelist, travel writer, and poet. Looking back on his career, Faulkner would mention that early on he had ridden his great-grandfather's coattails, but by the mid-twentieth century it was clear that it was the great-grandson who was leading the literary world: readers, young writers of fiction, and literary critics were following him as one who had found extraordinary ways to capture and express the most challenging aspects of modern life. Taylor Hagood's book centers on the concept of following to examine how Faulkner's work has been analyzed, elucidated, and promoted by a massive body of scholarly work spanning over seven decades. It narrates the development of Faulkner criticism, taking as its premise the idea that Faulkner forges a fiery path through modernism and into postmodernism that literary critics have been constantly rushing to follow.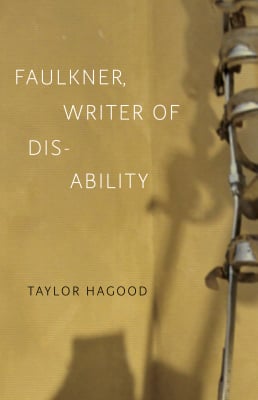 ​​

​

​Faulkner, Writer of Disability

​​

​
"Faulkner, Writer of Disability deftly weaves biographical detail, close textual analysis, and theory . . . In less than 200 pages, Hagood builds the scaffolding for future scholars to probe a Faulknerian world in which disability is not a symbolic gesture or stylistic technique but a universal condition that provides endless opportunities for interrogation."—Modern Fiction Studies

"A groundbreaking study. . . . That Hagood has roots in Ripley, MS, serves him well in building bridges between Faulkner's actual life and the fiction he wrote. . . . Recommended."—CHOICE

"Hagood's study at once challenges generic conventions, contributes nuanced readings to our understanding of Faulkner's work, and suggests exciting possibilities for continued work within literary disability studies. . . . Hagood's insistence on recognizing the relationship between form and content, as well as his emphasis on an author's relationship to impairment and disability as an important biographical aspect that might be fruitfully investigated in order to enrich our understanding of her or his work, is certainly a needed and exciting intervention."—College Literature

From the emerging field of disability studies, Taylor Hagood offers the first book-length consideration of impairment in William Faulkner's life and writing. Blending biography, textual analysis, and theory in an experimental style, Hagood explores in both form and content the constructs of normality and their power.
 
Hagood brings to light little-known and rarely discussed ways in which Faulkner's personal and familial background were marked by disability and discusses the ways the writer incorporates disability into his fiction. He reevaluates Faulkner's so-called "idiots"—Benjy Compson, Ike Snopes, and others—as characters whose narratives both satisfy and shock the reader. Hagood also examines the roles that impairment and abnormality play in texts such as the stories "The Leg" and "The Kingdom of God" and the novels A Fable and Flags in the Dust.
 
Highly original readings result, including new understandings of: the centrality of the visually impaired Pap in Sanctuary; the disability-centric social order based on interdependence in Pylon; and the disabled speech of Linda Snopes Kohl in The Mansion. Hagood argues that Faulkner's poetics are deeply invested in disability, both in promoting a disability-inclusive fictional world and in exposing and subverting the devaluation of disabled bodies and minds.
 
Hagood draws on firsthand knowledge of his native of Ripley, Mississippi, the ancestral home of the Faulkners, to offer readers otherwise inaccessible contextual information. Moreover, by framing each section of his study within a different kind of discourse—newspaper style, biography, email, and advertisement—he uses the very structure of the book to underscore the questions of normalcy prevalent in disability studies. This rich and unconventional study offers insight into a Faulkner haunted by experiences of disablement and compelled to narrate them in his own writing.
​
​​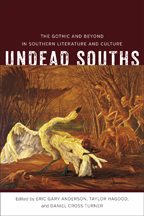 ​​

​

​Undead Souths: The Gothic and Beyond in Southern Literature and Culture
"A strong selection of essays. . . . This collection is well worth the time of those interested in a close examination of the origins of Southern gothic literature."—Publishers Weekly

"Being self-aware and meta without being campy or politically irrelevant is very hard to pull off, but the editors of this volume do it—and even make it look easy."—American Literary History

"Extending the reach of American Gothicism and regional studies, this collection offers ingenious, provactive, and often disturbing observations on aspects of the haunted and undead South."—CHOICE


Depictions of the undead in the American South are not limited to our modern versions, such as the vampires in True Blood and the zombies in The Walking Dead. As Undead Souths reveals, physical emanations of southern undeadness are legion, but undeadness also appears in symbolic, psychological, and cultural forms, including the social death endured by enslaved people, the Cult of the Lost Cause that resurrected the fallen heroes of the Confederacy as secular saints, and mourning rites revived by Native Americans forcibly removed from the American Southeast.
 
To capture the manifold forms of southern haunting and horror, Undead Souths explores a variety of media and historical periods, establishes cultural crossings between the South and other regions within and outside of the U.S., and employs diverse theoretical and critical approaches. The result is an engaging and inclusive collection that chronicles the enduring connection between southern culture and the refusal of the dead to stay dead.
​
​
​​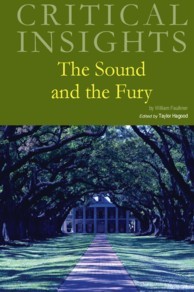 ​​

​

​Critical Insights: The Sound and the Fury
In-depth critical discussions of Faulkner's novel - Plus complimentary, unlimited online access to the full content of this great literary reference.

When William Faulkner published The Sound and the Fury in 1929 he presented the world with one of the greatest novels of all time and a foremost example of Modernist art. Even as it explores life in the United States South, this novel delves deeply into individual psychology via literary techniques that strain representation to its very limits.

This volume in the Critical Insights series is edited by Taylor Hagood, author of Faulkner's Imperialism: Space, Place, and the Materiality of Myth and Faulkner, Writer of Disability. The collection features an array of readings that range from philosophical approaches to the perspectives offered by the emerging and contested field of fat studies. The essays investigate such topics as the environment, war, and industrialism in The Sound and the Fury while offering fascinating explorations of time, the instability of meaning, and secrets of miscegenation. Among the contributors are such established and celebrated scholars as Cheryl Lester, Theresa Towner, and Joseph R. Urgo as well as an international cast of important emerging critics such as John B. Padgett, Christopher Rieger, Caroline S. Miles, Sarah Robertson, and Frédérique Spill.
​
​​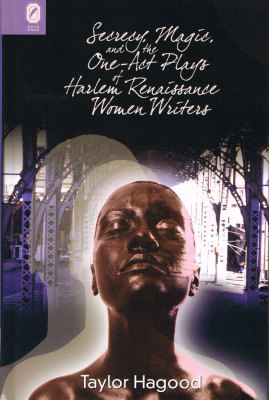 ​​

​

​Secrecy, Magic, and the One-Act Plays of Harlem Renaissance Women Writers
"Secrecy, Magic, and the One-Act Plays of Harlem Renaissance Women Writers deserves attention as one of the first book-length critical treatments of the theatrical work of Harlem Renaissance women writers. . . . [It] stands as a rewarding interpretive venture and as an insightful contribution . . . ." —Amerikastudien/American Studies

"I am not aware of any other work that examines such a large number of these writers in such depth and from an absolutely original point of view. I find Taylor Hagood's book to be an invaluable contribution to the fields of Black theater, African American theater history, and women's studies. All in all, I found Secrecy, Magic, and the One-Act Plays of Harlem Renaissance Women Writers to be an informative, well-written and important work. It enabled me to revisit these little jewels with fresh, fascinated eyes." —Glenda Dickerson, professor of theater and drama, University of Michigan

Secrecy, Magic, and the One-Act Plays of Harlem Renaissance Women Writers seeks to rescue the plays of seven black women, Marita Bonner, Mary P. Burrill, Thelma Duncan, Shirley Graham, Zora Neale Hurston, Georgia Douglas Johnson, May Miller, and Eulalie Spence, from obscurity. This volume is the first book-length treatment to address these plays and their authors exclusively rather than as part of a discussion of other African American playwrights from different eras. It is also one of the few to carry out an extensive discussion of secrecy's role in both literary representation and social interaction.
Exploring secrecy from the standpoints of poststructuralist language theory and game theory as well as dramatic performance, Taylor Hagood argues that the secret—a thing visible for its very invisibility—is a fundamental cog in the machinery of society, employed as a tool for both oppression and subversion. The many facets of secrecy have been particularly salient in African American culture, informing everything from the Underground Railroad to the subtle coding of Signifying. Most devastatingly, people on both sides of the color line are caught within a web of secrecy that is the result of centuries of distrust, doubt, and fear, a fact that is powerfully manifest not only in these one-act plays but in the reader's/spectator's interactions with them.
​
​​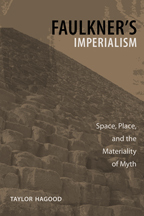 ​​

​

​Faulkner's Imperialism: Space, Place, and the Materiality of Myth
"Hagood moves with ease through the body of Faulkner's work. The authorial voice is assured and convincing . . . Faulkner's Imperialism​ teems with bright promise of impressive work yet to come."—Southern Literary Journal

"​Faulkner's Imperialism​ is a fine addition to the body of scholarship on Faulkner and a must read for those who enjoy Faulkner's work."—Florida Historical Quarterly
In Faulkner's Imperialism, Taylor Hagood explores two staples of Faulkner's world: myth and place. Using an interdisciplinary approach to examine the economic, sociological, and political factors in Faulkner's writing, he applies postcolonial theory, cultural materialism, and the work of the New Southernists to analyze the ways myth and place come together to encode narratives of imperialism--and anti-imperialism--in the worlds in which Faulkner lived and the one that he created. The resulting discussion highlights the deeply embedded imperial impulses underpinning not just Yoknapatawpha and Mississippi, but the Midwest, the Caribbean, France, and a host of often-overlooked corners of the Faulknerian map.

Faulkner defines space in his fiction by creating places through culturally compelling narratives. Although these narrative spaces often have imperial roots, Hagood reveals how the oppressed can subvert these "mythic places" by turning the myths against their oppressors. The Greco-Roman myths long recognized as part of Faulkner's fictional world, for example, define racially hybrid spaces ostensibly designed to articulate white patriarchal narratives of imperial control but which actually carry within their very dreams of Arcady an anti-imperial narrative. In Faulkner's Mississippi Delta, which he modeled after the Nile Delta, plantation owners evoke the imperial power of ancient Egypt to confirm their own cultural ascendancy even while African Americans use biblical narratives of the Israelites enslaved in Egypt to speak against the power that controls them. Faulkner also used places he personally experienced--such as New Orleans, a city that he recognized as containing multiple layers of imperial design--to dramatize the constant struggle between the oppressor and the oppressed.
Rather than reading the roles of myth and place according to conventional myth criticism or typical place models used by other Faulkner scholars, Hagood examines the intertextuality within Faulkner's writing, as well as the relationship of his writing to others' work, in an attempt to understand how the texts fit together and speak to one another. One of the few books that examine Faulkner's work as a whole, Faulkner's Imperialism moves beyond South-versus-North paradigms to encompass all the spaces within Faulkner's created cosmos, considering their interrelationships in a precise, holistic way.
​
​​